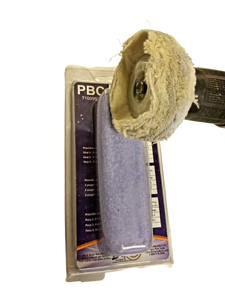 Buffing Kit for Acrylics, Hard Plastics & Headlights
Regular price $17.95 $14.95 Sale
This buffing wheel and sky blue color compound combination will quickly remove scratches & haze from acrylics & hard plastics including automotive headlight lenses! Produces crystal clear, see-through appearance on plexiglass. 
Just chuck the mandrel mounted buffing wheel into your drill, hold the compound against the spinning buff & allow it to melt onto the buff.  Let your drill & buffing wheel do the work and watch the magic begin!  Works on tail lights, watch crystals, safety glasses, & bakelight, too. Do not use on prescription eyeglass lenses or automotive paint finishes. 
Contains: One 4" diameter mandrel mounted buff (7000149) & one bar of  blue plastic buffing compound (#7100952).
Made and packaged in the USA.